Press-report of SchoonemanDesign in ExpoVisie – Januari 2014
SchoonemanDesign
Han Schooneman: "Quitting was never an option"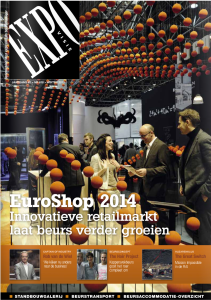 In Expovisie tells the quirky 3D designer his story. The past year Han Schooneman lost almost everything. But not the most important: himselve. "As a child I lived across the street from villa" Aemstelle "and my father always said, 'If that property is for sale, I'll buy it.'" But the building was not for sale and by the time it on market came, lived father Leon Schooneman long and wide in Vinkeveen.
Full of history
We speak Han Schooneman at his new workplace in the building that his father caught the imagination. Not surprising , as it is beautiful. Characteristic. Full of history. The villa was built in 1926 in art deco style, with recognizable Amsterdam School and Bauhaus elements. It is located on the Amsterdamseweg 511, a stone's throw of Amsterdam, at the back overlooking the Amstel. In short, Aemstelle is quite a special building. " The building was built and inhabited by the family Van Royen, who enjoyed at the beginning of the last century fame as founder / owner of the 'White' cinemas in Amsterdam and Utrecht," teaches Schooneman about the history of the property. In 1963, a new purpose as a museum of modern art. In the mid nineties, the museum moved – now known as Cobra Museum – a modern building elsewhere in Amstelveen. After years of vacancy offered Aemstelle from 2002 to 2013 shelter at Van Lanschot, who built a giant vault in the basement. Schooneman: " We have been six weeks trying to demolish this thing out. " Since November 11, 2013 Aemstelle is the official address of Bright Accountants and Advisors. In the building are also a broker, a social marketing agency and to find new business Han Schooneman .
Restyling
The restyling of Aemstelle to a practical, versatile and most contemporary office building symbolizes the ' reconstruction ' of Han Schooneman itself. The mission of Schagen and Helder to design the interior and supervise the renovation work gave Schooneman , after a heavy episode in his life, again some leeway to give his new plans form. Moreover, during the renovation process the property to contain literally enough space to provide Clean Basket Sign shelter. As I said last year was the toughest year in Clean Mans life. He had the company his father founded in 1953, say in April of this year goodbye. And that while he and his staff in March still had stopped at the sixtieth anniversary. Why ? That's a long story, a story of wrong choices at the wrong time. " Much more can and will Schooneman not say about at this time. But one thing is certain: the whole affair is not to sit in the cold clothes him. " One minute you think you 're the sheep kind of dry and a half years later you've got nothing. I worked hard for thirty years, "he says with a lump in his throat. " And I've got nothing left . "
Sunny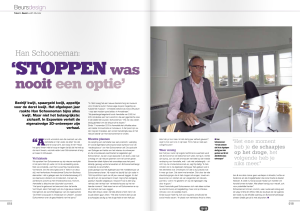 Half a year after his worst nightmare truth was Schooneman sees the future yet again in sunny. His laptop, his self-designed desk on the second floor of Aemstelle, including – but not least – view of the Amsterdam South axis, he insists: "I have discovered that I have done over the last thirty years that I would much DIY: designs. And that is exactly what I will do again. That makes me happy. Also by the many messages of support I have received from both suppliers and customers as colleagues and network partners, I feel encouraged to continue on this path. "From Aemstelle Schooneman will focus not only on stand design and supervision, but also interior design for the business market. Meanwhile, he has also further developed into a social media expert. "Instead of idly sitting at home, I am going to deepen this summer in LinkedIn , Twitter and Facebook and all the possibilities that offer social media. I now know how to use social media to bring in business. Useful not only for myself, for potential customers. " Schooneman hammering short, old fashioned firmly on the road . Online and offline. With the result that his agenda one week after the official opening of SchoonemanDesign again is filled with appointments.