The initiative KIPPENVEL
KIPPENVEL – the power of live communication.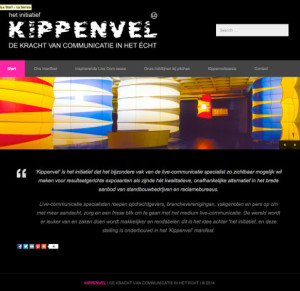 Dutch live communication professionals have united in an initiative called 'Kippenvel – the power of live communication'.
Kippenvel means goosebumps, the ultimate goal of our work. They wrote a manifesto calling upon clients, branch organisations, professional colleagues and the press to pay more attention to live communication, being a medium full of potential and perspective.
Often the oldest means of communicating still is the one with most impact. The world will be more fun and doing business will be easier: that's the idea.
download: het Kippenvel manifesto (in Dutch only, sorry)
website: www.kippenvel.eu